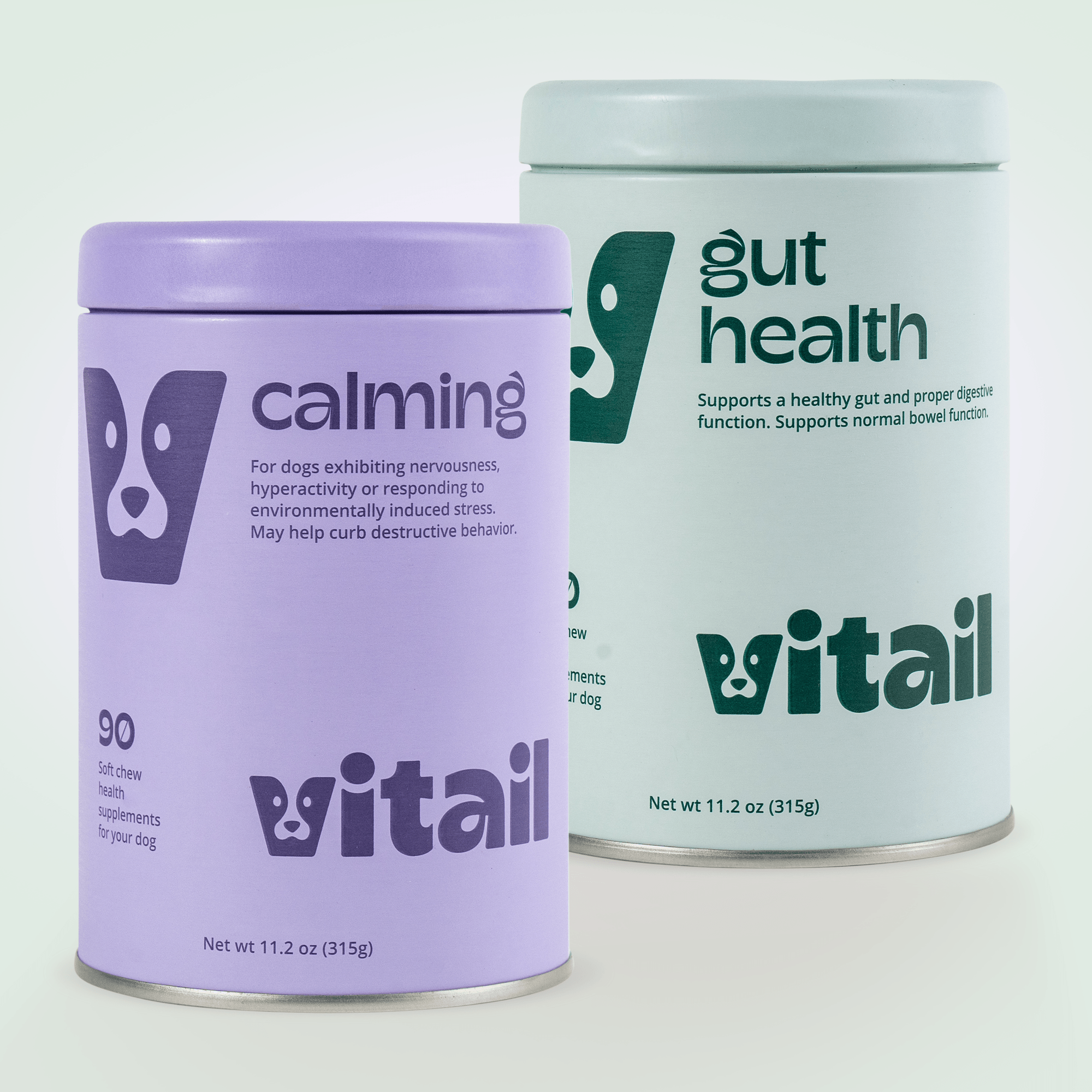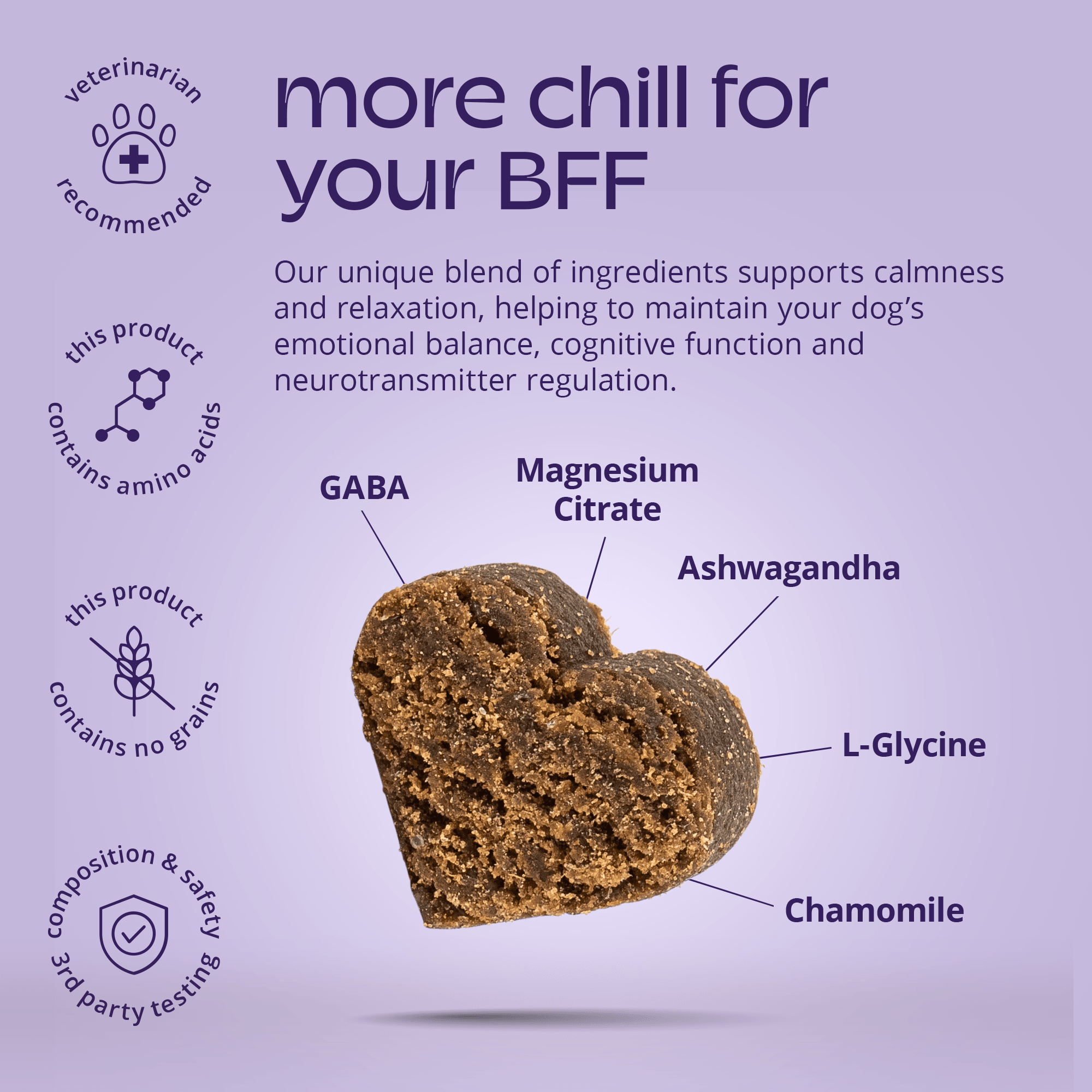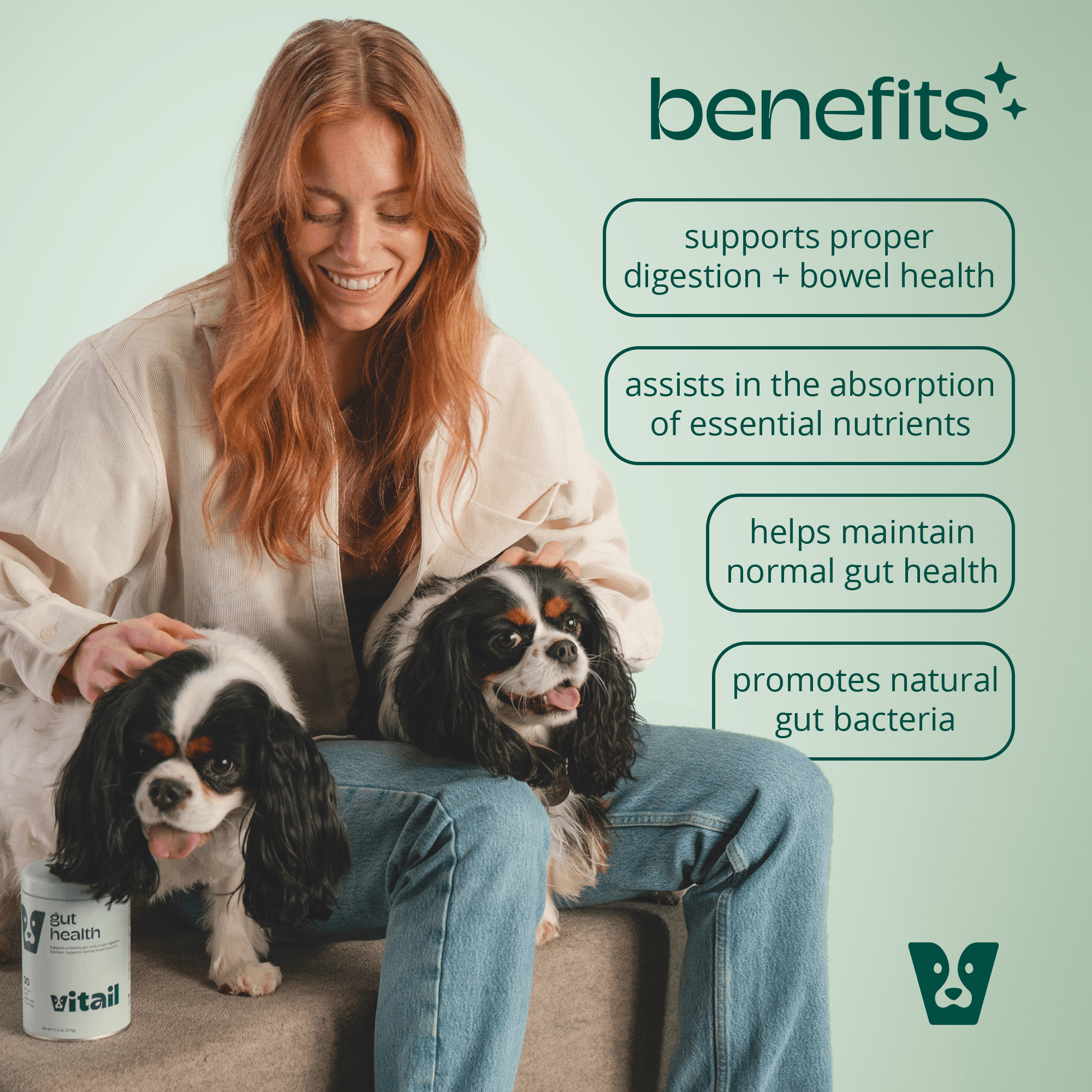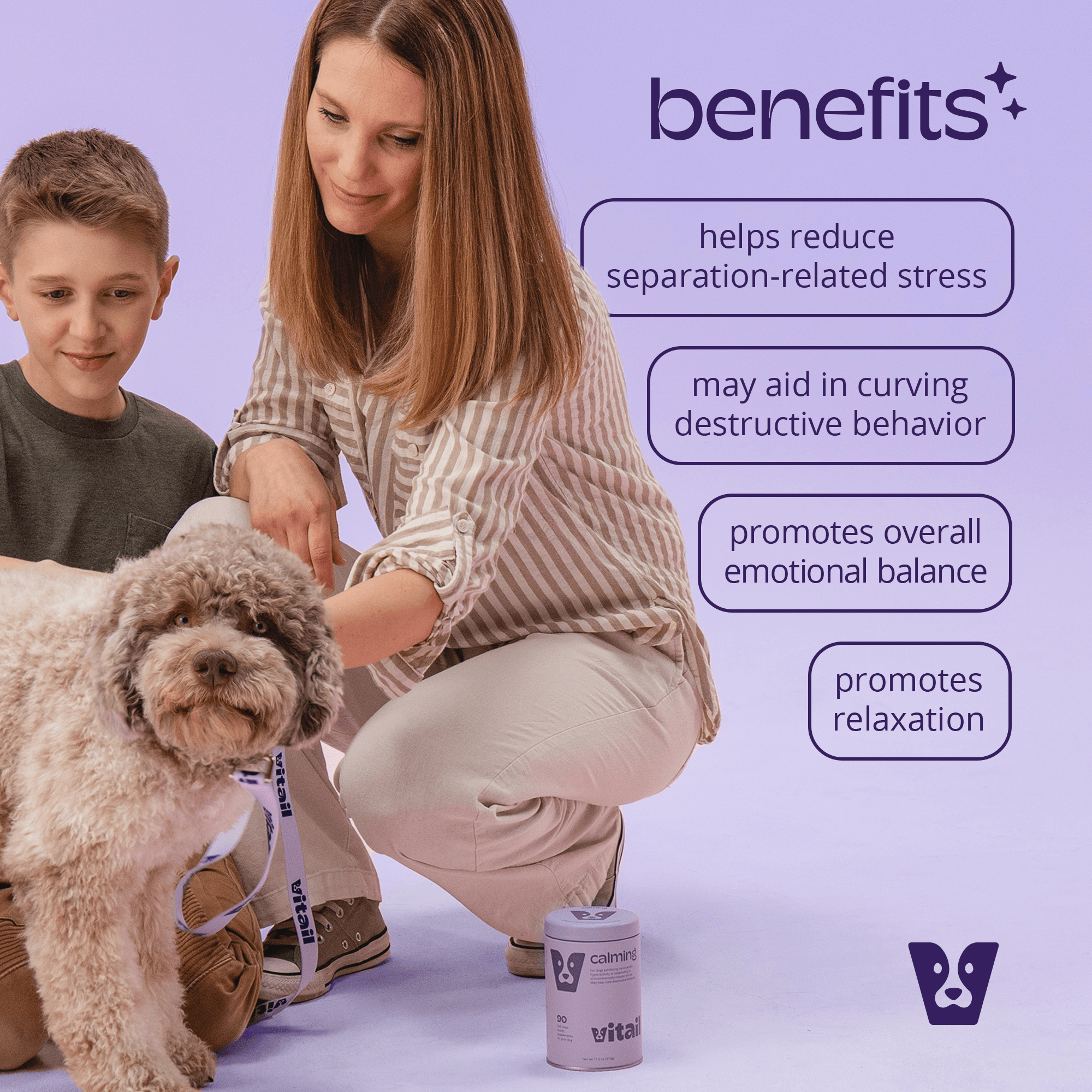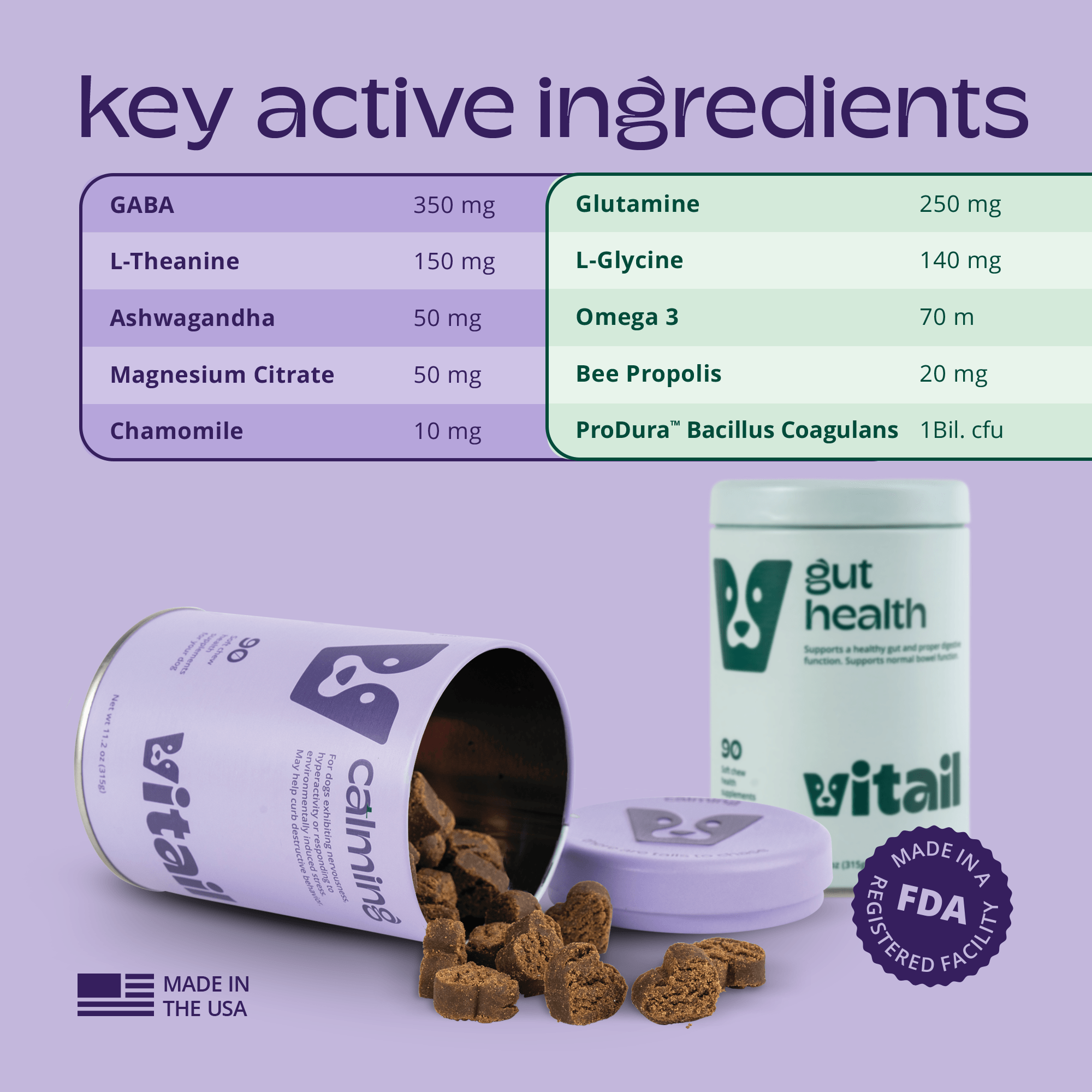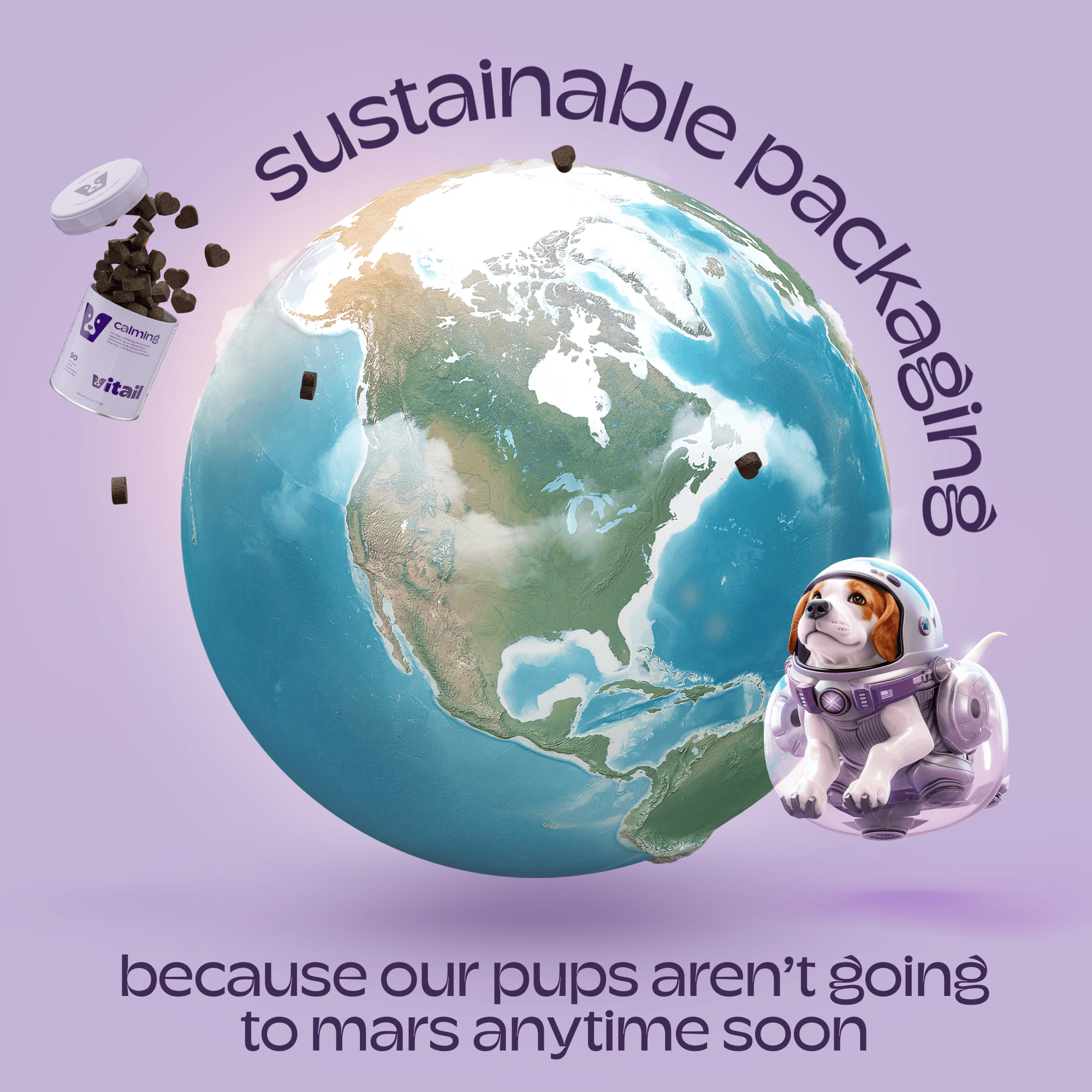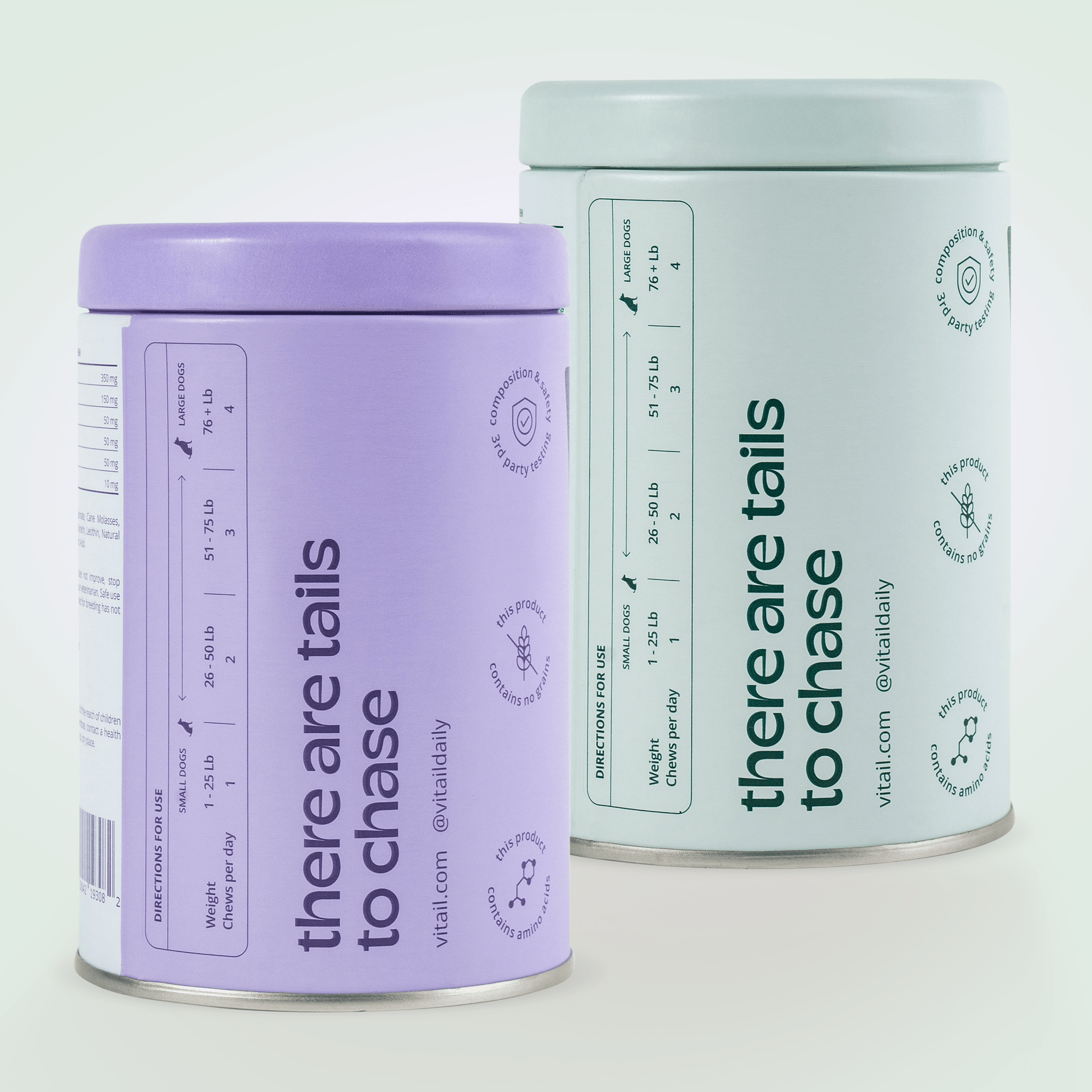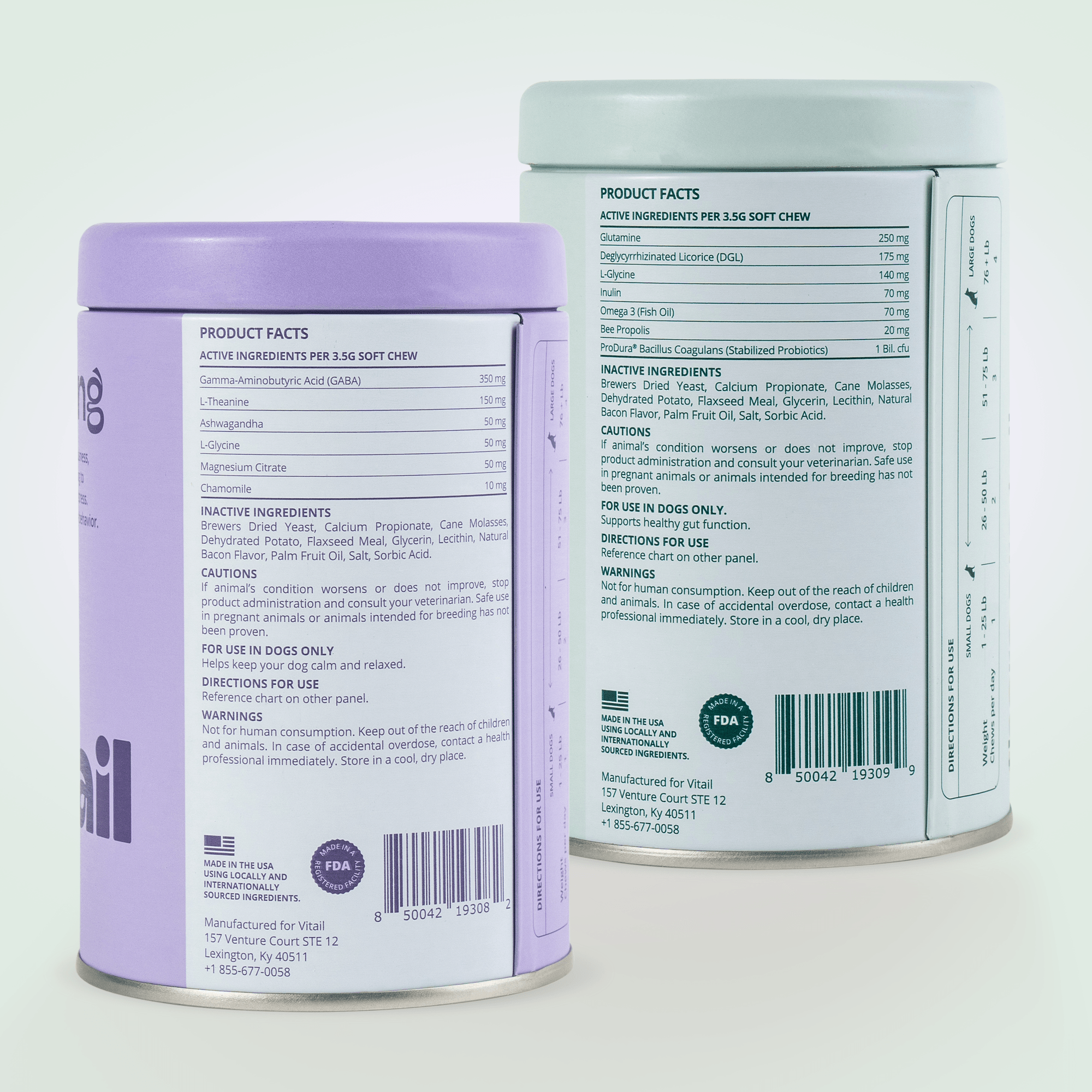 Keepin' It Lowkey Bundle
Ease your best friend's daily stresses and improve their digestion.
Treat your pup to the ultimate chill sesh! Our Vitail™ Calming chews are packed with amino acids and relaxation-inducing ingredients to keep your pup feeling zen. And, for an extra boost, Vitail™ Gut Health chews are here to ensure your pup's stomach stays in tip-top condition while they're chillin' out.
---
Ready to ship, unbox, and chew 🐶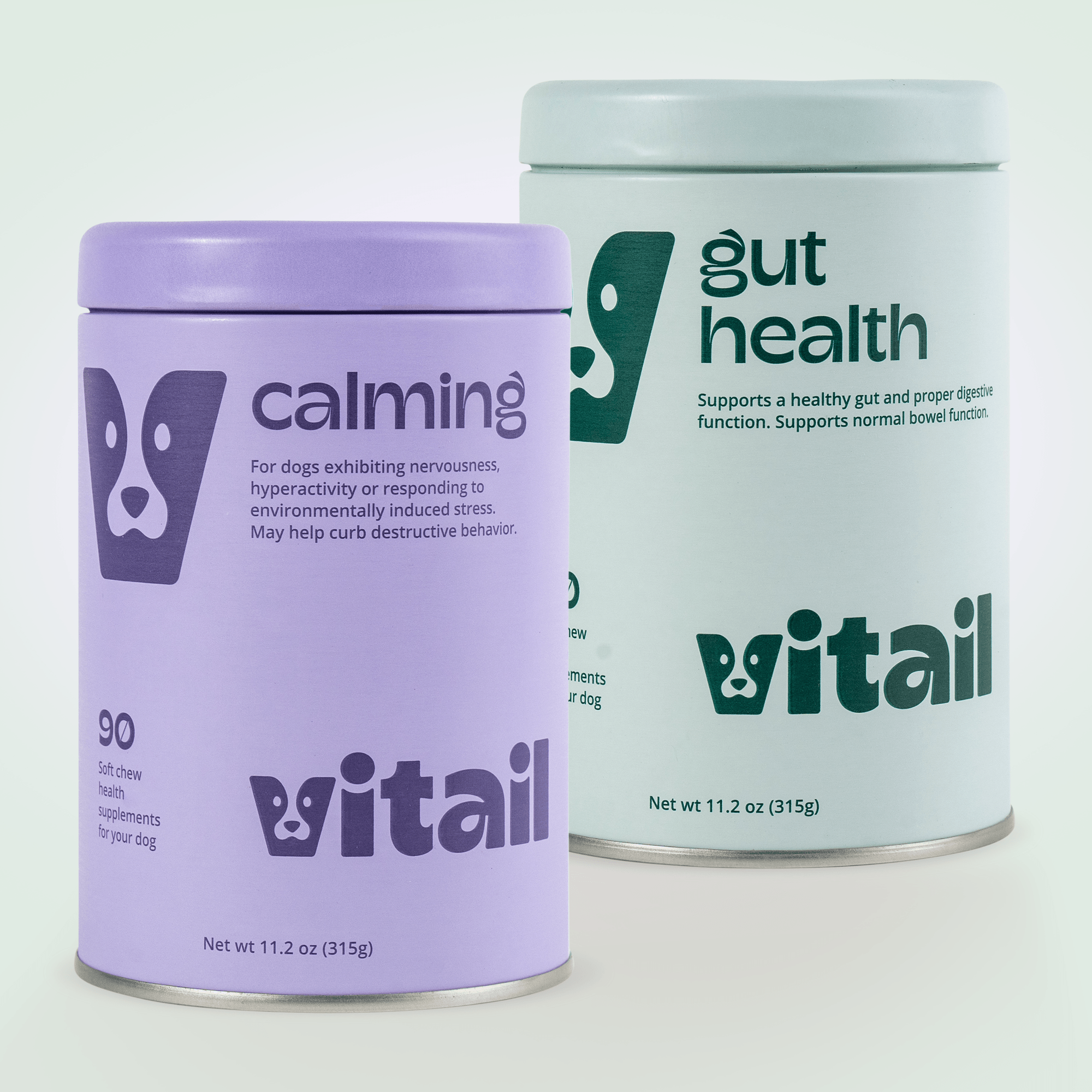 Gut Health featured active ingredients
Vitail™ Gut Health chews are carefully formulated with amino acids, prebiotics and probiotics to support normal healthy gut function and proper digestion. Ingredients include Glutamine, DGL, L-Glycine, Inulin, Omega-3, Bee Propolis and ProDura Bacillus Coagulans. Giving your dog these soft chews helps maintain their health from the inside out.
Supports proper digestion and bowel health
Helps maintain proper gut flora
Supports a healthy gut
Assists in the absorption of essential nutrients
Glutamine
L-Glutamine is a non- essential amino acid.  It has been shown to support leaky gut and the mucosal lining in the gut.

Bee Propolis
Bee propolis has been shown to have antibacterial, antifungal and antiviral properties.

Deglycyrrhizinated Licorice (DGL)
Licorice, particularly as chewable deglycyrrhizinated licorice (DGL), has been shown to support normal anti-inflammatory response, and has anti-oxidant properties. 

Inulin
Promotes beneficial gut bacteria and supports absorptions of nutrients.

Omega 3 (Fish Oil)
Omega 3 fatty acids have been shown to support cardiac health and normal immune system function.

ProDura (Bacillus Coagulans, Stabilized Probiotics)
ProDura probiotics are a unique strain of spore forming bacteria. This bacteria helps support normal gut health, essential for promoting normal stools, and helps maintain a normal digestive tract.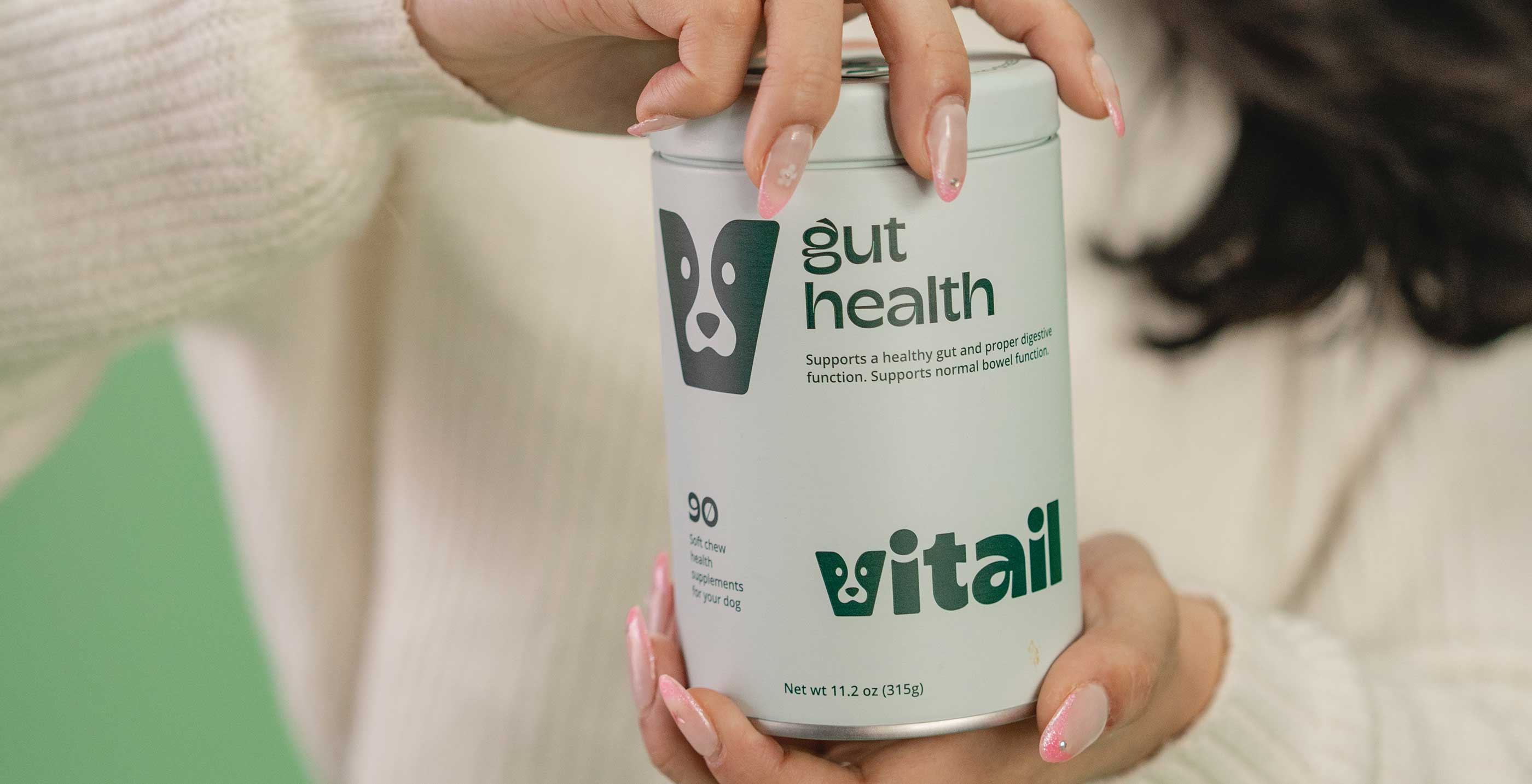 Calming featured active ingredients
Vitail™ Calming chews have been carefully formulated with amino acids and herbs to help support calmness and relaxation. Ingredients include GABA, L-Theanine, L-Glycine and Ashwagandha. Made to help your pup maintain emotional balance during stressful situations, our chews are best taken daily.
Helps maintain normal emotional balance
Helps reduce separation-related stress
May curb destructive behavior
Promotes relaxation
Gamma-Aminobutyric Acid GABA
 is known for producing a calming effect. It's thought to play a major role in supporting stress and fear that comes from environmental situations.

L-Glycine
Acts as a neurotransmitter. Studies have found supplementation with glycine can improve sleep quality, with subsequent benefits to cognitive function.

Magnesium Citrate
Research shows that magnesium plays an important role in regulating neurotransmitters, which send messages throughout the brain and body. This is how magnesium plays a role in neurological health.

Ashwagandha
Ashwagandha is an herb that is known to support calmness. The ashwagandha plant is a small shrub with yellow flowers that's native to India and Southeast Asia.

Chamomile
Chamomile is a calming herb and has been shown to support relaxation.
It comes from the daisy-like flowers of the Asteraceae plant family.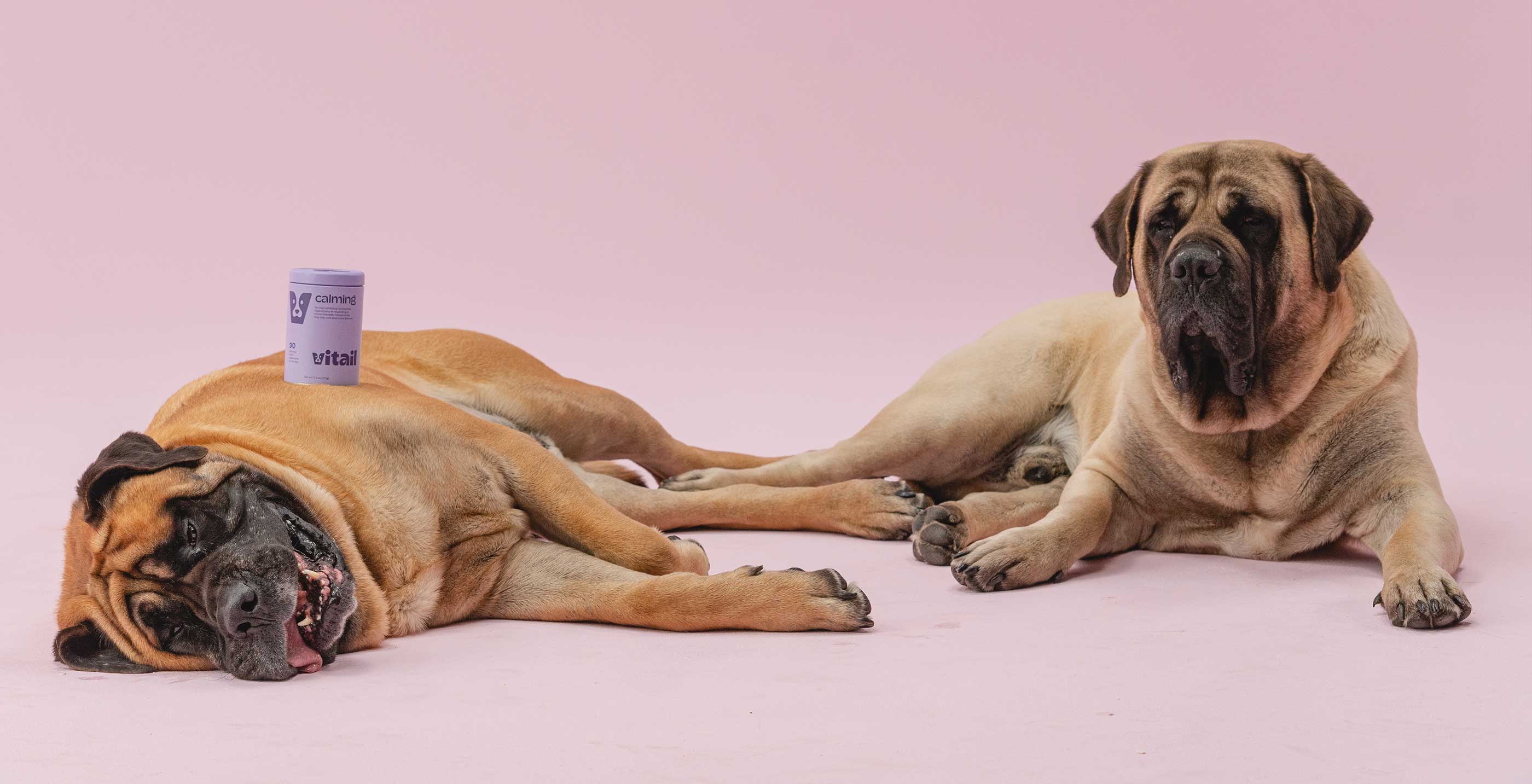 This product is rated 5.0 of 5.0 stars.
It has received 2 reviews.